This morning at 5:40AM I did a short TV piece for Scripps News in Atlanta for National Pie Day. I set my alarm for 5AM but woke up in the middle of the night to see the clock showing 3:14AM and felt relieved that I didn't have to get up yet. 3.14 seemed a sign that Pie (with a capital "P") was checking in with me, too. I went back to sleep and woke up again at 4:58AM, pulled myself out of bed, shuffled into the bathroom to splash cold water on my face (Oh my gawd…this is too early to look remotely like I have it together. Where's my Jane Jetson mask?) and got dressed in the clothes I had set out the night before, a striped blue and purple long-sleeved tee, a periwinkle blue scarf, and, as at that hour the cottage is still chilly, a teal sweater vest. No need to worry about my lavender sweats as they wouldn't be seen.
The night before was a late one as I spent hours getting the camera set up just so and kitchen staged behind me, plus there were counters and a sink full of dishes to wash after making two pies for a Cherry Pie auction item demonstration session that was held at the home of the winning bidder. I made and baked off Apple and Shaker Lemon pies, while gathering all the equipment and ingredients needed for the demo. Then realizing that I would need to eat when I got home, I pulled out the crockpot to slow cook a pot roast I had defrosted. While it seared and browned, I chopped onion, carrots, celery, and potatoes to add to the crockpot, added mushroom stock, thyme, and a little salt and pepper all of which added to the messy counters. I put the top on the crock pot, looked at the time and saw there was just enough to get myself out of my Sunday sweats and slippers, dressed, and everything in to the car. When I came back inside for the last few things, GP looked so very sad that I invited her to come along, even though she would need to stay in the car while I was teaching. Her wagging tail said, "Not a problem, Mom!" and off we went.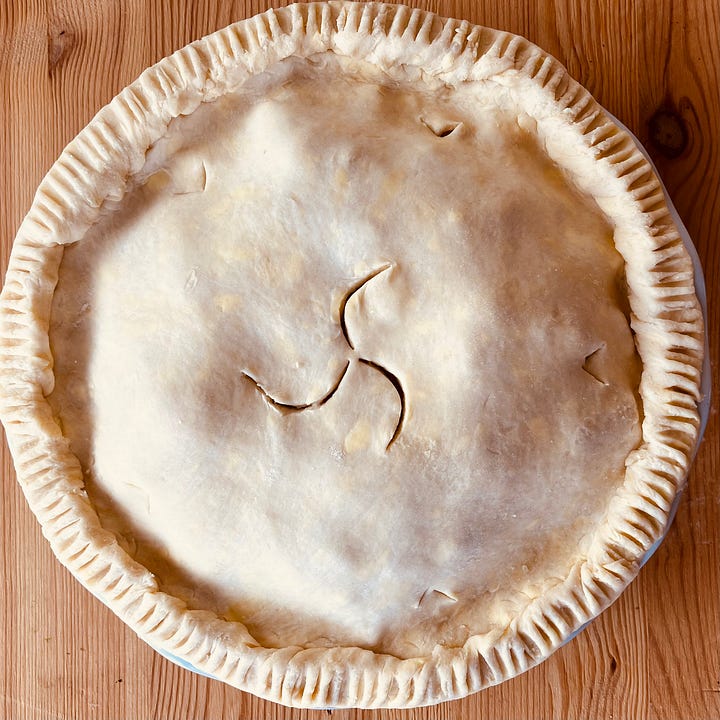 The session was great and everyone loved the pies, but when I got home all the dishes were still there plus so much to do to get ready for today's early morning broadcast.
I'm one who would prefer to stay up late and get everything organized before turning in for the night. This used to bug Wuzband #3 as he was firmly planted in the put it off til morning camp. If I had put cleaning and staging off til this morning, I might as well not have gone to sleep at all as I would have been up at 2:30AM cleaning and staging.
I set myself down in front of my laptop camera, logged in, and waited while I watched the live feed do stories on cursive writing and today's weather. Then I was up. After a quick introduction the questions came:
What defines a pie?

What is it about pie?

What is your favorite pie?
I'm sure there were more questions but honestly, I can't recall any of them now. I just hope at that hour I didn't tumble all over my words when I replied that my favorite pie was whatever one I was making to give away. Anything for Pie, right? Then I headed back to bed to get a few more hours of shut-eye which were accompanied by some early morning dreams of driving my car into a stranger's garage and seeing friends inside the house walking around like zombies…and if my dreams are all about me, that is just about how I feel this morning after my circadian rhythms were interrupted.
So, on this January 23rd National Pie Day, as in easy as pie 1-2-3, I'm thinking it's ok to take a pie maker's holiday. There's plenty of pot roast left for tonight's weekly family supper, and my kitchen is already clean!
Happy Pie Day to All!
---
Two Classes Coming Up This Month
February 9th: Double Chocolate Cherry Pie
This one is a new pie I created just in time for Valentine Day and will be held online on Feb 9th. Register through 92nd Street Y at this link.
Febraury 12th: Mom's Chicken Pot Pie
We'll be making all-time favorite chicken pot pies on February 12th in the next virtual Bake with Kate session. Serve it just baked, or freeze and bake later. Register at this link.
---
Tune for Today
Since we're on the subject of Chicken Pot Pies…
---
If you enjoyed this post, let me know with a comment and a little ❤️.